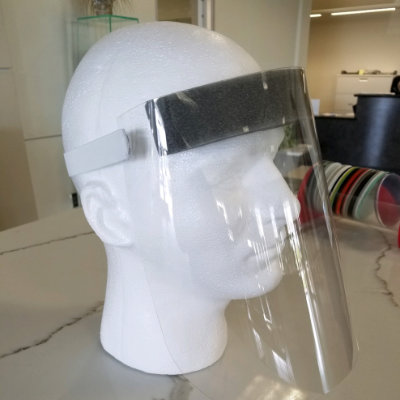 *MANUFACTURED IN CALIFORNIA, USA*
At AMR Plastics, we focus on helping companies prepare for the "New Normal." In response to very high demand, we are providing the AMR disposable face shield to many industries that require this type of protection. In comparison to common acrylic shields, this superior quality product is made from high-impact polycarbonate. The AMR Face Shield measures 11.75″ width x 9″ height with an adjustable elastic strap and foam padding for excellent stability and comfort in addition to distancing the shield from one's face. A Material Safety Data Sheet is available that provides details on its anti-glare, anti-fogging, and anti-static properties.
$4.49 each plus tax
Volume discounts available
Face shields are Personal Protective Equipment (PPE) made of approved plastics for protection against germs and pathogens. These comfortable face protection shields feature a wide piece of flexible plastic that surrounds the face to protect from airborne threats, as well as a foam headband to provide a comfortable distance between the face and shield. The attached elastic band keeps these face masks securely in place. Applications include dental, optometry, hair salons, and barbershops, to name a few. Emergency Use Authorization has also been approved for medical settings.  The AMR disposable face shield is a high-quality product at a competitive price.  Please contact us for any questions or volume quotes.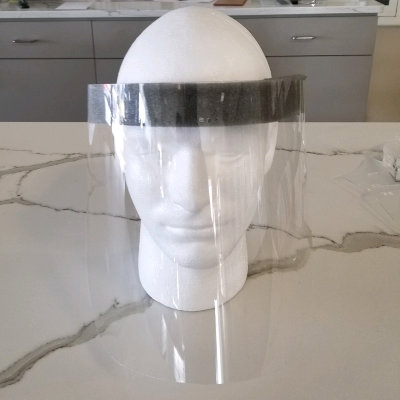 DISCLAIMER: Customer bears full responsibility for making its own determination as to the suitability of each material and/or product purchased. These products are not a replacement for medical grade protective equipment. If you need that type of equipment please consult a healthcare professional. These items do not replace other recommended measures to stop the spread of disease and AMR Plastics, Inc. makes no guarantee related to the purchase or use of these or any other products we sell.
WARNING: This product contains chemicals known to the the State of California to cause cancer and birth defects or other reproductive harm. Please visit www.P65Warnings.ca.gov for more information.
TERMS & CONDITIONS: All sales are final. No returns or refunds will be accepted or issued. Any damage claims must be received in writing within 5 days of delivery.
Please use the linked form for any and all questions regarding product pricing, availability or any technical questions you may have.